The Interior Department and federal agencies have spent the last four years derailing public input, denying and ignoring science, and plowing over human rights and local voices to give away sacred and public lands, and allow the devastation of wildlife and wildlife habitat for political gains and corporate profits.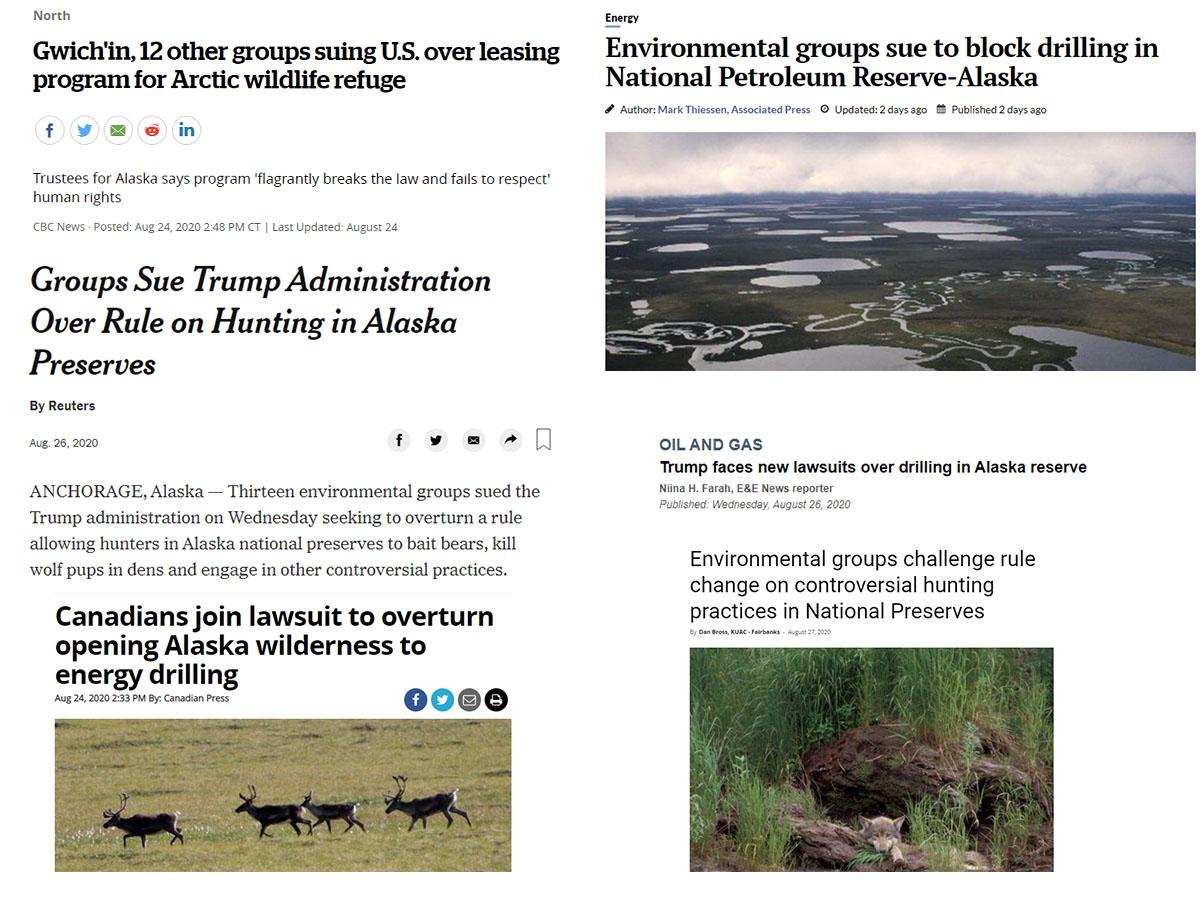 When they make destructive decisions, we take action.
In August alone, we filed four lawsuits charging agencies with breaking multiple laws in their to sell off public lands to industry, and put people and wildlife in peril.
Here's the rundown of August lawsuits
Preventing destructive hunting practices in national preserves: On Aug. 26 we sued the National Park Service for breaking the law when adopting a rule that would open up national preserves in Alaska to destructive and brutal hunting practices. Of note, we are also watching what happens with a U.S. Fish and Wildlife Service proposal to change hunting rules that would allow people to shoot genetically distinct Kenai brown bears over bait piles within the Kenai National Wildlife Refuge.
Stopping the sell-off of the largest public land to oil companies: On Aug. 25 we sued the Bureau of Land Management for breaking the law when adopting a management plan for Alaska's National Petroleum Reserve that would sell off virtually all of the largest unit of public land in the country to oil and gas companies.
Protecting sacred lands in the Arctic Refuge: On Aug. 24 we sued Interior for breaking the law when approving a leasing program that would hand over the entire coastal plain of the Alaska National Wildlife Refuge—lands sacred to the Gwich'in Peoples of Alaska and Canada–to leasing and drilling.
Keeping a 211-mile industrial gravel road out of the southern Brooks Range in the Arctic: On Aug. 4 we sued BLM, NPS, and the Army Corps of Engineers for breaking the law when approving a 211-mile state-subsidized industrial gravel road to benefit private mining interests while polluting Arctic land and water, degrading permafrost, and harming the health of wildlife and people.
What the patterns reveal
The common themes across these cases include federal agencies minimizing or dismissing local perspectives, omitting or dismissing science, rushing environmental reviews with insufficient information, and failing to meet their minimum obligations under the law to conduct accurate and adequate analysis to protect land, water, air, wildlife and people.
The agencies in these cases have produced flawed environmental impact statements, drawn faulty conclusions, and brushed aside the rules and processes required for making good decisions.
We are working overtime to protect Alaska from this barrage of reckless and destructive decisions. We are a small nonprofit law firm in Alaska, focused on Alaska issues, and we know what's at stake. Now we will go to court to protect Alaska's lands, waters, wildlife and communities.